Best Digital Marketing Course In Vijay Vada
Classroom/LIVE Online Training – 24*7 Support cell – Hindi/English – Internship/Placement Guaranteed*
JANUARY 17, 2022
New batch
Freshers, Traditional Marketers, Entrepreneurs, Brand and Communication Managers, Sales Professionals
Top Skills You Will learn?
Complete Digital Marketing skill with 100%. practicals
Career Opportunities in Vijay Vada ?
Digital Marketing Manager, Digital Agency Founder, Freelancer, Digital Marketing consultant, Trainer & many more post COVID-19 World.
DOWNLOAD Complete Syllabus ( Updated August 2022)
Most exaustive content designed by Asia's leading Digital experts with LIVE Examples & case-studies.
Diploma Program offerings

Diploma PROGRAM in Digital Marketing
10 Modules, 40+ Topics, 30+ Tools, 80+ Hours
Digital marketing Tools we cover
Appear for DSAT (Digital Scholarship cum Admission Test) Exam
DSAT is Mandatory Scholarship cum Entrance Examination to be eligible for Admission at Digital Gurukul & its FREE of cost.
25+ Leading Digital experts across Asia for powerful Digital learnings you can ever get 
Dr. raj padhiyar
Founder - DIGITAL GURUKUL
Awarded Asia's Best Digital Marketer of 2018- Dr. Raj Padhiyar who born & brought up in Mumbai. His education qualification includes (B.Com from Narsee Monjee College), (MBA from Welingkar Institute) & (M.Com from Mumbai University) & (Digital Marketing from Ireland). His involvement in Digital Marketing dates back to 2008 when Digital Marketing was a relatively new term for all the people across the industry by handling Freelancing work of small businesses & Educational Institution.
Dr. Raj Padhiyar is (Founder – Digital Gurukul – Awarded Asia's Best Digital Marketing Institute & 12+ Awards), (Founder – Emvive – Cental India's leading Digital Marketing Agency), Edtech Committee member (IAMAI- Government of India), Mentor of 50+ Organizations across Asia.
Dr. Raj Padhiyar is the only Indian to receive Doctorate in Digital Marketing from USA. He is also Awarded "Youngest Entrepreneur of the Year" for Digital Marketing Education in the year 2017, 2018 consecutively.
With 12+ National & International awards, Dr. Raj Padhiyar has been associated with various Government Organizations, Political Parties in managing their Digital portfolio. He has trained 15850+ Professionals across various industries & list is growing day by day. He has written several articles on Digital Marketing & his thoughts are regularly published in leading newspapers & Magazines across India including Times Now, Aajtak, and Deccan Herald etc. He has published his first book "Social Media & Politics in India" in 2019, available on Amazon & Flipkart. (It has got 5 star rating by readers) & his second book is published in 2020 "Fundamentals of Digital Marketing".
Abhinay Bhasin
Dentsue Aegis Network
Mr. Abhinay Bhasin – A post graduate in Economics, from the top ranking University of Warwick (United Kingdom), with a passion for Consumer Behaviour Understanding, Abhinay has been an instrumental force in driving the vision of the Data Sciences division of the Dentsu Aegis Network in South Asia as one of its founding employees.
In his 4 years in the industry, he has risen from being a young manager with Carat (the media flagship agency of Dentsu) to Director – South Asia of its Data Sciences division.
He has won numerous industry awards recognizing top talent in the region such as the Impact Top 30 Under 30, the Social Samosa Top 30 under 30, Leaders of Tomorrow and was even featured in the 2019 Forbes 30 Under 30 list.
He was also Asia's sole nominee for New talent in UK's prestigious DataIQ Awards in 2018. He has also given TEDx talks on topics in advertising and the future of talent.
He is an active member of the advertising and media industry in India and is on the Board of the Young Professionals Program of the Indian chapter of the International Advertising Association.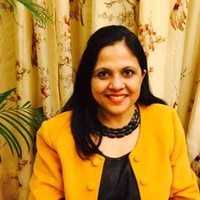 Shweta Shrivastava
Head Digital - Philips
Shweta – Digital evangelist and Marketing professional having more than 18 years of diverse experience at various organizations in making strategies, plans and driving execution for achieving business goals.
Currently Steering the digital landscape of Philips India Sub continent as Head of Digital and developing the strategy and roadmap. Responsible for the definition & implementation of strategy Collaborating with stakeholders globally across all verticals, business and functions and integrating relevant touchpoints throughout the customer decision journey.
Have worked for companies like Philips, DuPont, GroupM, Hindustan Times, Askme.com, Indiamart etc.
With converging mediums, channels and touchpoints, my role has been as an enabler which enables businesses and functions to generate Revenue, Build Brands, Disseminate information & engage with customers, Empowering Sales, Marketing, Customer support, HR, Finance, Channel Partners and Leadership team.
Have won various Industry awards for my work and individual recognitions.
-Woman Super Achiever 2020 from World Women Leadership Congress,
– BBC Knowledge Women Leadership in Industry Award 2017, – Smartest Digital marketing leader 2019 and – Most Influential Digital Media professional 2018 by World Marketing Congress, – Adobe Brand & Content custodians and digi100, powerd by PaulWriter in 2017. – 'Woman Super Achiever in Digital and Social' in 2014 as Women Leadership
Excellence Awards held at Singapore.
– Mobby's award in 2013 hosted and
endorsed by CMO Council and Asian
Confederation of Business
Gaurav Sharma
Digital Head - AXIS Bank
Gaurav Sharma having over 9+ years of diverse experience in leading Indian & International Banks currently working with Axis Bank as Digital Channel & Campaign Manager – Credit Cards at their Corporate Office in Mumbai responsible for Organic growth of the credit card franchise of the bank. Leading the digital channel strategy for acquisition of new credit cards by focusing on channel development, generating traffic on electronic channels, optimizing the quality of traffic for each channel. Involved in development of the digital strategy encompassing Website, Internet banking, Mobile App, ATM, Speed Kiosk & Chat bot. Implemented 1st of it`s kind in the banking industry process called Voice STP for Pre-Approved customers of the bank.
Gaurav has worked with various team in Axis Bank in my earlier assignments where I was part of the Consumer Loans team, worked as a Product manager, leading initiatives like: Introducing Tablets for the 1st time for Personal Loan acquisition team, Launching for the 1st time a business tracking app for DSA / Channel Partner for Personal Loan acquisition & Designing Course search engine for Sales & Credit teams of Education Loan to name a few.
Appear for DSAT (Digital Scholarship cum Admission Test) Exam
DSAT is Mandatory Scholarship cum Entrance Examination to be eligible for Admission at Digital Gurukul & its FREE of cost.
Digital Gurukul, Vijay Vada
You can visit Digital Gurukul's Campus in Vijay Vada if you wish to meet the students and speak to our academic counselors. Come experience the Digital Gurukul learning culture and meet your future trainers to understand student life