The Ace Digital Marketer from Indore – Mr Raj Padhiyar made the entire India proud- when the Victoria Global University, United States of America honoured the 29-year-old Digital Marketer with Honorary Doctorate at their 16th Convocation. The Digital Marketer will now be called Dr Raj Padhiyar, Doctor of Digital Marketing. Interestingly Dr.Raj Padhiyar became 1st Indian to receive Doctorate in Digital Marketing.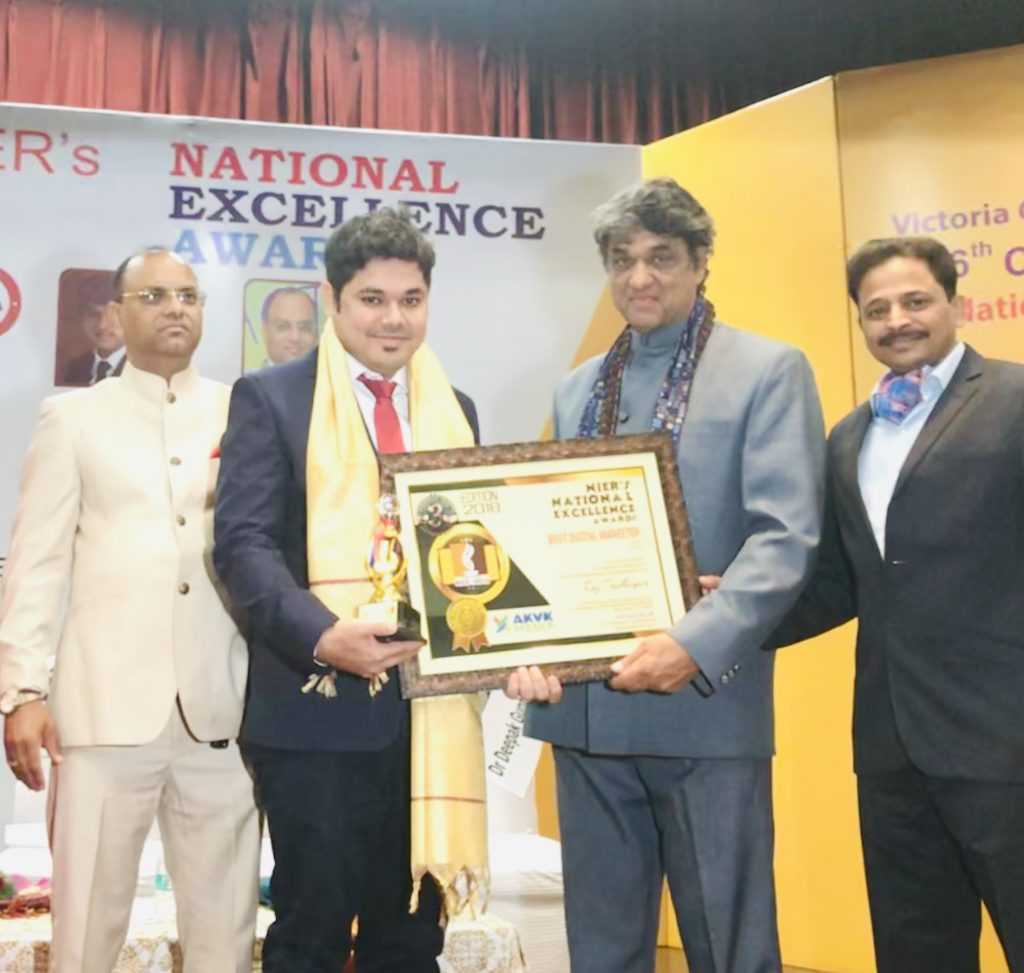 The event was held on 6th October at New Delhi with the presence of Renowned Bollywood Actor – Mukesh Khanna & many other dignitaries from the University.
On asking the Director of Digital Gurukul about this the victory he thanked his family, students, friends & and his parents for all that he has achieved at just 29 years of age. "Well, This is the biggest honour that i received. When I got to know about the award and I went to receive it on the stage, the feeling was something I cannot express. The honour I received with the award was just amazing. It is a moment of happiness to know that our work is appreciated so well," said Dr Raj Padhiyar
Noted Digital Marketer – Dr. Raj Padhiyar – Who was born in Mumbai, He has done his B.Com (Narsee Monjee College of Commerce, Mumbai) & MBA (Welingkar Institute of Management) & M.Com (Mumbai University) & Digital Marketing from Ireland with 5+ years of experience in Digital Marketing with 120+ seminar, workshops & trained 4250+ students, professionals & business organisations across India.
He holds the following positions –
1 – (Director – Digital Gurukul – Awarded Asia's Best Digital Marketing Institute & won 15+ awards)
2 – (Co-Founder – Socialladdoo (Central India's leading Digital Marketing Agency),
3 – (Director – Emvive – India's 1st AI based Complete E-Commerce Consultant)
4 – Core member Ed-tech Committee (IAMAI – Government Of India).
5 – Previously Dr Raj Padhiyar also awarded with Asia's Best Digital Marketer award 2018, "Youngest Entrepreneur of the year award" & others.
On asking Dr Raj on what he feels like to after such massive achievement – he says, "Awards are a great way of encouragement. It motivates individuals to do some more great and hard work. Hard work only needs appreciation."