Do you feel overwhelmed with the list of Digital Marketing courses and Institutes you see online when you search for the best one?
Why worry? When we are here to solve your problem.
Finding the best Digital Marketing institute can be very tricky because it sets your future accordingly.
There are so many topics in Digital Marketing like SEO, Content writing, Website creation, Social media marketing, and many more that you need to learn and be an expert.
We at Digital Gurukul decided to make the search easy for you by segregating the search according to the city. In this and coming articles, we will be sharing the best Digital Marketing Institutes for you and what courses they offer.
Sounds exciting??? So, Let's start with the Best Digital Marketing Institutes in Ahmedabad-
1- Digital Gurukul: Digital Marketing Institutes in Ahmedabad
Digital Gurukul was established 7 years ago with a Digital Marketing program by Dr. Raj Padhiyar. Digital Gurukul offers an Alt MBA Program, a Master in Digital Marketing, a Diploma in Digital Marketing, and various certificate courses in 50+ modules of Digital Marketing across Asia. Digital marketing modules in Digital Gurukul has always evolved with time and the need of the corporates.
They even allow you to book a free demo class on "career & Entrepreneurship in Digital Marketing" by the founder – Dr. Raj Padhiyar Live.
Digital Gurukul is Awarded "Asia's Best Digital Marketing Institute" and 15+ other awards The Institute is also Accredited by IAMAI.
Digital Gurukul has the best available faculties and guest lecturers. They focus on practical knowledge and experience more than theoretical knowledge.
Digital Gurukul prepares one thoroughly for the competitive world outside and guarantees Internship and placement.
They offer 365 days and a 24*7 helpline to clear your doubts and queries which is very rare to find.
Digital Gurukul offers both Online and Offline courses. The online course enables their students to study wherever they are and also provides recorded videos of the sessions just in case you miss any classes you can just watch it and not feel left out in the next session. The fees of Digital Gurukul vary from course to course. But has a great Return On Investment.
Why Digital Gurukul?
Free Demo Class
Placement/ Internship guarantee
Case studies
Diploma in Digital Marketing
Master's in Digital Marketing
Certificate Courses
Digital marketing course fees – NA
Location – Online
Contact- Phone- 9584831230/9022888883
Email- info@digitalgurukul.in
2- BrandVeda: Digital Marketing Institutes in Ahmedabad
With more than 14 years of experience, BrandVeda comes under the top best Digital Marketing institutes of Ahmedabad where they have taught more than 50,000 the institute is led by Saurabh Pandey, a qualified professional in the digital world. They are creating courses and teaching students from all over the world.
The syllabus is set in a way that covers practical and theoretical aspects of learning. BrandVeda not only has the best Digital Marketing course but also has multiple Certification courses.
They also offer customized Digital Marketing Training Programs for various departments including sales, marketing, Advertising, HR, Senior Management, and existing Digital Marketing teams. Also, we give options to organizations to customize the scope of training programs based on their Digital Strategy.
Course offered-
Digital Marketing Introduction
Search Engine Optimisation
Google WebMaster
Search Ads
Display Ads
Advanced Link Earning Strategies
Gmail Ads
Instagram Marketing
YouTube Ads
Social Media Strategy
Advanced AdWords
Content Marketing
Facebook Marketing
Twitter Marketing
Facebook Ads
Linkedin Marketing
Twitter Ads
Google Analytics
Email Marketing
Lead Generation
Linkedin Ads
Landing Page Optimisation
Digital marketing course fees – NA
Location- Sahajanand Arcade, 413, Nr. Helmet Circle, Ahmedabad, Gujarat 380052, India
Contact- Phone: +91 89807 17782, +91 70699 05879
Email- inquiry.brandveda@gmail.com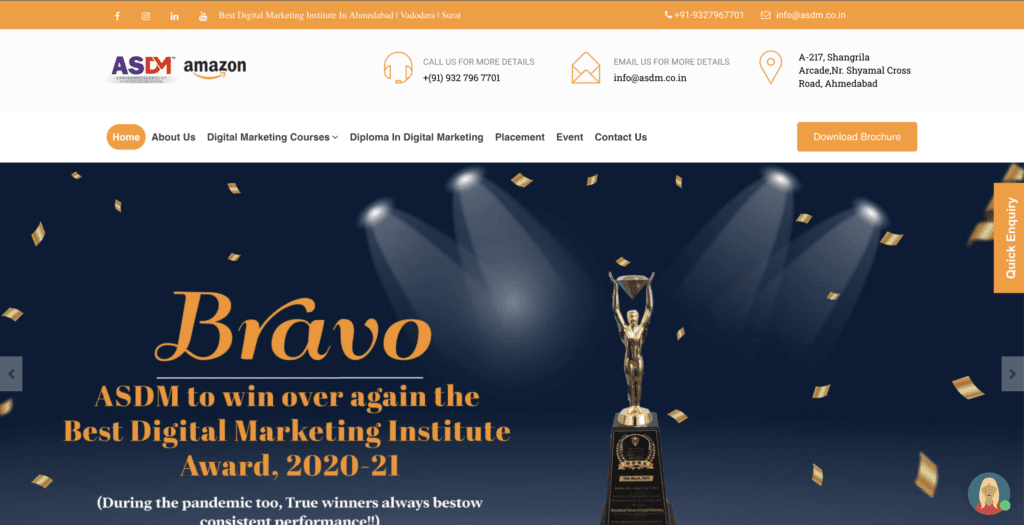 Ahmedabad School Of Digital Marketing (ASDM) is one of India's best institutes for Digital Marketing Institute for Training. It has been nominated by Indian Education Awards 2019, the 9th National Awards on Indian Education. Various articles and news editorials have been published regarding various training programs for CEOs in multiple newspapers and news channels.
Their program guarantees almost 100% placement and assures freelancing projects. This program is 100% practical experience and mostly focuses on live projects and real-time case studies.
Why Join ASDM?
Award-winning No 1 Digital Marketing Institute
Amazon Partner Institute
100% Practical Training
100% Live Project Training
Course offered-
Location- A-217, Shangrila Arcade, Nr. Shyamal Cross Road, Ahmedabad
Contact- Phone- +(91) 932 796 7701
Email- info@asdm.co.in
4- Learning Catalyst: Digital Marketing Institutes in Ahmedabad
Founded in 2008 by Mr. Kaushik Mhadeshwar, Learning Catalyst is one of the leading institutes offering digital marketing courses in Ahmedabad. Along with our Digital Marketing course in Ahmedabad, they also provide Digital Marketing Courses in other major cities of India.
They have both classroom and online options for classes where the classroom they conduct classes only on the weekends but in Online classes, they have classes throughout the week. The duration of both classes is 2 months.
Courses offered-
Web Marketing
Website Design/Development
Mobile app development
Digital Marketing
Kids courses
Special Courses
Advance courses
Location- Office No.B14, First Floor, Takshshila Orient, Opposite Shyam Farm, Nikol-Naroda Road, New Nikol, Ahmedabad, Gujarat- 382350.
Contact- Phone- 8591350922
Email- enquiry@learningcatalyst.in
5- Digital Kal: Digital Marketing Institutes in Ahmedabad
DigitalKal is a Digital marketing training Company & consultancy. Its headquartered in Delhi-NCR and also has a presence in UP, Rajasthan, Haryana, and growing other states.
They Offer E-commerce & Digital Marketing courses and training to students, Professionals, Entrepreneurs, Corporate & Freelancers.
Our aim is to help everyone in Learning and make them capable to implement Digital Platforms.DigitalKal is founded by professional trainers in digital marketing and academic field, with over 20+ of experience.
They also conduct Basic and Advance Level Digital marketing training in Class Room, On-Campus, and in Corporate.
Courses offered –
Certified Professional in Digital Marketing
Certified Professional in Google Adwords/PPC
Certified Professional in SEO
Certified Professional in Social Media Marketing
Location- Office No 7, 2nd Floor, Shukan Mall, Beside Rajasthan Hospital, Shahibaug, Ahmedabad, India.
Contact- Phone- +91-8800684411
Email- contact@digitalkal.com
6- W3 Marketing School: Digital Marketing Institutes in Ahmedabad
The W3 Marketing School was founded in 2018 by Abbas Kapasi. Their Digital Marketing Program is structured in a way that will cover all aspects of digital marketing courses like SEO courses, PPC courses, Social Media Marketing courses performance marketing, and all kind of lead generation techniques through online marketing.
Courses offered-
Digital Marketing Course
SEO Course
Social Media Marketing Course
Digital Marketing (Bootcamp)
Location- W3 Marketing School
D-913, Titanium City Center, Nr. Sachin Tower, Anand Nagar, 100 Feet Rd, Prahladnagar, Satellite Ahmedabad
Contact– Phone- 98 98 794 616
Email- learn@w3marketingschool.com
7- Digital Vidya: Digital Marketing Institutes in Ahmedabad
Started in 2009 Digital Vidya has offered the best Digital Marketing courses to students, professionals, and entrepreneurs. Based in various locations in different countries Digital Vidya has trained more than 61,000 learners with the help of top trainers in the industry. They believe in interactive and practical hands-on problem-based learning.
They have online courses as well to save your travel time and provide classroom recorded sessions just in case you miss any class. Focusing on individual students also provides lifetime updates to sharpen your skills.
Courses Offered –
Certified Digital Marketing Master
Digital Marketing Leadership Program
Social Media Marketing Expert
Building an E-commerce Store
Search Engine Optimization
Search Engine Marketing
Web Analytics
Facebook Marketing
Inbound Marketing
E-mail Marketing
Mobile App Marketing
Location- C-11, Shyam Darshan Society, Parshwanath Township,, New Naroda, Krishna Nagar, Ahmedabad, Gujarat 382346
Contact- Phone- +91-80100-33033
Email-  info@digitalvidya.com
Conclusion: Digital Marketing Institutes in Ahmedabad
The need for Digital Marketers is always on the increase and so with the technology in Digital Marketing, it is very important to first decide the skills you want to excel in and then choose the institute accordingly.
Stay Tuned with Digital Gurukul for more such information in the field of Digital Marketing and beyond.