After detailed research, we have gathered the 5 best ways to make Digital Marketing Strategy more effective. These tips and insights will help you to make your digital marketing strategy more effective and will help you generate more results.
With millions of people actively using the internet, digital marketing is the best option for you to build relationships with hundreds and thousands of people that can eventually become your potential customers.
According to Statista, India had around 749 million internet users across the country in 2020 and it is estimated to grow at a rapid rate, It is the second-largest online market in the world behind China. This huge number reflects the opportunity to use digital marketing for your business.
Whether you are a small business owner or you operate a multi-million dollar company, digital marketing is suitable for almost every business operating at any stage and it is your job and responsibility to make the perfect use of digital marketing in this cluttered world. If you are not using this opportunity then you will be left behind, therefore, more than choice it is a requirement to use digital marketing for your business or you will become obsolete over time.
What is Digital Marketing?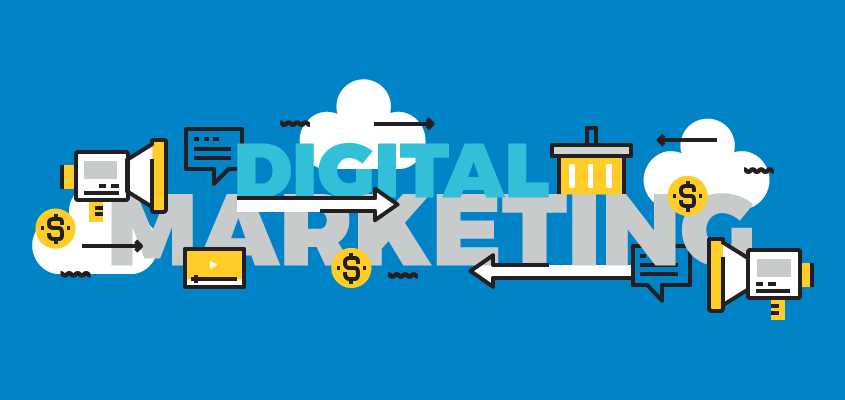 Digital Marketing is the process of promoting and advertising your products or services on the internet by the means of electronic devices. There are various digital platforms where people are hanging around on the internet and you can use that platforms to promote your business. Digital marketing facilitates you to connect with a huge number of people that can be turned into your paying customers.
Types of Digital Marketing that will make your digital marketing strategy more effective
1. Search Engine Optimization(SEO)
2. Email Marketing
3. Content Marketing
4. Inbound Marketing
5. Search Engine Marketing(SEM)
6. Outbound Marketing
7. Affiliate Marketing
8. Pay-per-click
9. Influencer Marketing
Above are some methods of digital marketing, you can use any integrated marketing mix of these methods suitable for your business and the industry in which you are working. But the main thing that you should keep in mind is that how you can make your digital marketing strategy more effective because everyone has access to digital marketing and in order to stand out from your competitors you have to work hard for making your digital marketing strategy more effective.
Today everyone is surrounded by technology and digital devices and they receive thousands of messages related to marketing & other things and every company and organization is vying for people's attention, therefore it is necessary to examine your marketing message before you send it to people.
Your marketing message and campaign have to be very effective that it gets noticed by people and they remember your message. In this blog, we will suggest ways to make digital marketing strategy more effective.
Here are 5 Ways to make your Digital Marketing Strategy more Effective
1. Selection of Appropriate Target audience
You might wonder is it that much important to select a target audience before launching an advertising campaign and believe me, it is literally the most important task before launching any campaign. If you are not aware of who is your actual target audience then you are wasting the resources, time, money, and efforts of people who are working on crafting and creating the campaign.
The most pathetic thing for any organization is that they don't know who their actual target customers are. Before launching any campaign you must research properly and then select to whom you are targeting the campaign because ultimately these are the only people that actually need your products or service.
For instance, if your company sells cooking oil then it is irrelevant to show your ads to college-going kids because they are not the decision-maker of which cooking oil will be used in the home. You must target these ads to housewives or homemakers. Selection of proper and appropriate target audience is necessary to enhance your digital marketing strategy.
2. Set Clear Objectives for your Campaigns
There is a saying "If you chase two rabbits, you will not catch either one". Actually, this phrase denotes the importance of focus. You must have to be very focused and have clarity in your mind while setting objectives for your digital marketing strategy and advertising campaigns.
Set attainable objectives and goals for your campaigns, don't set the bar so high that it becomes impossible to achieve that result. Your digital marketing campaign must be aligned with your objectives otherwise you will not get the desired result and many times it causes confusion for people to properly interpret your marketing message and it refrains them from taking action.
If you are a leader, then it is your job to set clear objectives for your marketing campaigns and circulate them to your team and make sure whether your objectives are consistent with your marketing message.
3. Use High-Quality Content in your Message
Content is the king in the field of Digital Marketing. It is the most fundamental part that is required at every step of digital marketing. The quality of content you are going to use must be very high while interacting with your potential customers and target audience because ultimately its quality is going to decide the image of your company in the customer's mind.
In a famous Marketing communication book "Positioning: The Battle for Your Mind" the author states that 'Content' and 'Writing' create positioning of your brands in the consumer's mind. Therefore it is very necessary to keep your content quality very high.
Whether you are interacting with people on Social Media, Blogs, or any other digital platform you must be very conscious of using high-quality content because good quality content inspires people to take action, to exchange their hard-earned money for your products and services. High-quality content with a precise marketing message makes your digital marketing more effective.
4. Measure and Track your Campaigns
The best way to increase the effectiveness of digital marketing strategy is to measure and track everything about your campaigns. Various tools are there to measure almost every activity of people interacting with your marketing message or campaigns.
You can use this data and information in optimizing your next marketing campaign by collecting the data from previous campaigns. It provides you valuable information on how people are reacting to your campaign, whether they are reading your content or not, whether they are clicking on your post or not, and much other important information that can be beneficial for you. Measurement and tracking are very important for your digital marketing strategy.
With the advantage of measurement and tracking, you can perform A/B testing on your marketing campaign or even on your offerings. A/B testing is a process of testing or evaluating two things( A, B) simultaneously by running a campaign for both things and measuring which performs better. If used properly this testing can be proved very effective for your digital marketing strategy.
5. Maintain Relationship with People on Social Media
Today almost every person is actively using social media, no brand or company can ignore the impact that social media have created on our lifestyle.
You can leverage the power of social media and increase the effectiveness of your digital marketing strategy. Today all the people are online, you cannot leave this opportunity of building relationships with your potential customer on social media.
You can share wonderful and useful insights to educate or entertain people depending on the industry you are working in, this can act as a bridge between you and people that can ultimately become your paying customer.
Constantly engaging with people on social media helps in understanding their behavior towards your brand and you can use that feedback and behavior to make changes in your offerings and make it better.
Conclusion
There are many ways that can make your digital marketing strategy more effective, but these are the 5 best ways that we presented before you after rigorous research that will help you in getting the best result from your digital marketing campaigns.
You can use the combination of these strategies mentioned above as per your offerings. But the only thing you should keep in mind is that you must make digital marketing an integral part of your business because it has the immense power to help you grow your business and convert it into a well-known brand.
If you want to learn to create the best digital marketing strategy and its detail then you can join our course on Digital Marketing. We cover every aspect of digital marketing that will help you in growing your business.